Kundalini Bodywork Online


PRE SALE PRICE $300 with 18 months access 
(if your being charged more tax than is right please email us before purchase hello(@)kundalinibodywork.com)
Join Kundalini Bodywork Online now, while new videos are being loaded, and:
- gain an EXTRA 12 months access 
- receive a $195 reduction 
- offer content feedback and request videos 
- become eligible to attend advanced courses with the 'School of Energetic Bodywork'
- receive email notifications as new videos are loaded up 
- connect with others on the course 
- attend zoom meetings to ask questions and practice
NORMAL PRICE $495 with 6 months access 
PRE SALE PRICE $300 with 18 months access 

Transform your body
to vibrate on the cellular level from love, bliss, joy, pleasure, happiness, and abundance, attracting more of these things into your life 



Breathing Practices

Bodywork
for emotional release and self de-armouring

Generating energy
sexual, creative, healing and spiritual energy

Polarity Work
learn to use both your masculine and feminine energies

Shadow Work

Energy Work
learn to cultivate life force energy

Kundalini Energy
work with Kundalini for awakening and healing

Multi-Orgasmic Body
build your multi-orgasmic
What is Kundalini Bodywork?
Kundalini Bodywork online is the Foundation course for the School of Energetic Bodywork, and serves as the prerequisite for most other courses.
It's suitable for all people from all walks of life, who wish to make a positive change within themselves and in the world.
We start by clearing old traumas stored in the body, clearing the pathway of Kundalini, before learning to sublimate and transmute different energies. A mental framework for integrative therapy and self-development is also used to heal and intergrate the masculine and feminine polarites within. Although not directly yoga, some yogic techniques are used along with others related to Taoism, Tantra, and a range of other healing modalities. Kundalini Bodywork is designed to help you on a journey of self realisation with each persons final practice, and awakening being unique. Different certificates for practitioners are available through the School of Energetic Bodywork.
Check the video testimonials below. 
To learn more about Elliott Saxby, founder of the School, visit his website
Not ready to sign up?
Join our mailing list
'Masculine & Feminine Polarity Work' by Elliott Saxby
Is the perfect companion for this course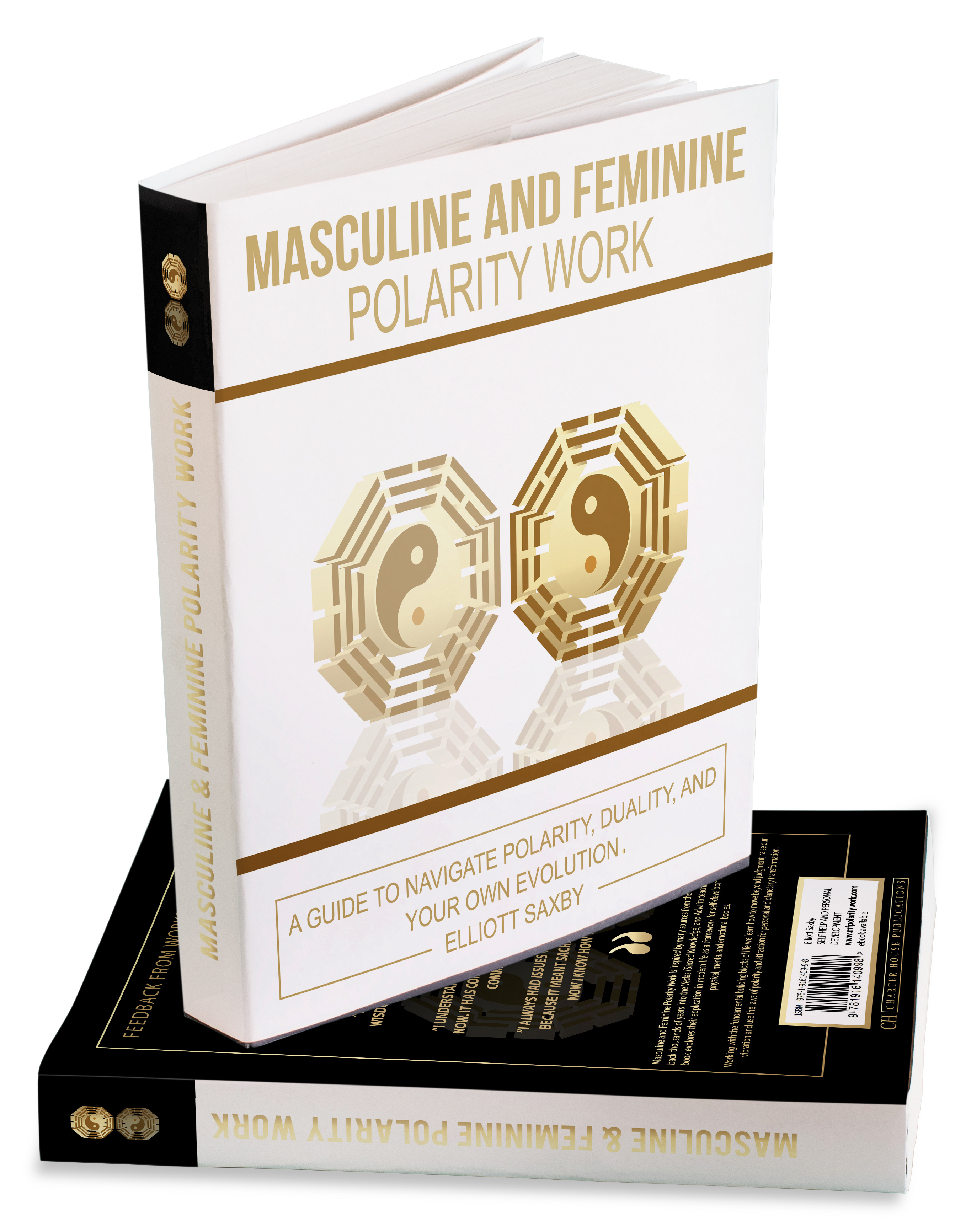 Not ready to sign up?
Join our mailing list
After this online course
you are eligible to attend advanced workshops at various locations with the